---
West Coast R27
---
Route 27
West Coast Towns
Off the Beaten Track
West Coast History
Culture & History
From Crayfish to Iron
West Coast Map
---
West Coast Explorer
---
SA West Coast
Tours/Recreation
Nature Reserves
Fossil Park
Sea Tales & Wrecks
Whale Watching
Weskus Stories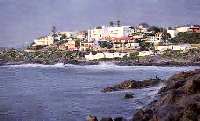 Yzerfontein is the first village along the West Coast road, the R27, and is about 78 km from Cape Town. It is a holiday resort first and foremost, attractively laid out around a rocky cape and harbour. Many of it's houses have a splendid ocean view and on clear days Dassen Island and Table Mountain are clearly visible to the South.

The Latin motto on the town's coat of arms, Mare didat, flores decorat tells the story of the town. It translates as 'the sea enriches, whilst the flowers decorate'. In spring the town is surrounded by splendid shows of wild flowers, even the sidewalks are massed with colour.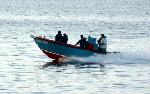 Rock and boat angling are popular pastimes and there is a slipway in the little harbour for use by the many ski boats which congregate here in season, bringing in large numbers of snoek. The town has an active boating club which welcomes visitors as well as locals. When the snoek mass, they attract fishermen from all over the West Coast.
Long white beaches offer safe bathing and tourists can find a variety of accommodation.accommodation. There are several restaurants in and around town, including one on the beach, which offer traditional West Coast food and delicacies from the sea.
Yzerfontein is renowned for the mighty westerly swells which roll into the bay, making it one of the country's prime surfing spots. In the middle of the bay there is a 13 m high rock islet, Gull Rock, which offers a safe perch to large colonies of gulls and cormorants.
Whales have been returning in increasing numbers to mate and bear their calves in the shelter of the bay and inlets around Yzerfontein. These placid giants are often seen here as late as December.
The town dates back to 1936, when the Katz family bought the farm Yzerfontein and gradually started subdividing it into residential plots. Most of the present development is taking place to the south of the village.
Dassen Island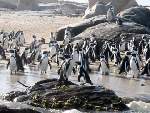 Dassen Island: 10 miles west of Yzerfontein, is one of about 34 underwater mountains along the west coast of South Africa, whose pinnacles rise above sea level. It is also the biggest island off the West Coast. A caretaker lives on the island, which is a popular and safe haven for yachts on their way up or down the coast. Nature conservationists and scientists visit the island to study its penguin and cormorant populations. It is 4,5km long and 2km wide. The highest point is a mere 10m above sea level. The island boasts a lighthouse. Large numbers of dassies, or rock rabbits, which give the island its name, live on the island. It also boasts a large tortoise population, and is the breeding place for a number of sea birds, the commonest of which is the African Penguin.

Author and photograph 'Yzerfontein' - Cornel Truter, West Coast Tourist Guide
Photograph: 'Snoek fishing' by Wayne Bodenstein
Photograph: 'Penguins on Dassen Island' by Yves

Top

Route 27 Terms of Service About Us Privacy Statement


© Avril Brand, South Africa West Coast