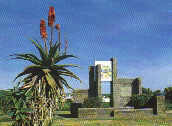 Vredenburg, situated 138 km from Cape Town and 12 km from Saldanha, is the centre of much of the business activity on the West Coast. It is the hub of several smaller towns and is regarded as the administrative centre of an area stretching from Langebaan in the south to Velddrif in the north.

Just outside the town is an excellent golf course and various other sporting facilities are also available. The most important attractions in the surrounding area are the many lovely holiday resorts.

Of interest outside the town, on the road to Saldanha, is the Witteklip, a rock with a massive opening through the middle of it. In the early days, so we are told, a wagon with a team of oxen could turn in the opening. Approximately 5 km away, on the road to Hopefield, is a riding resort where groups can go on adventurous horse trails in the veld or along the coast, under the supervision of an experienced rider.
Historical Background
During the second half of the seventeenth century there were already many established fishing communities along the West Coast which supplied farmers both on the coast and inland, with seafood, particularly salted fish.

Initially most of the fishermen of the region struggled to make a living and development was greatly hampered by the lack of fresh water. The Agterbaai, as Vredenburg was known, did not have a church for a long time - the nearest church was at Hopefield, six hours' drive by horse and cart. The Dutch Reformed Church established a congregation here in 1875 and the church building was inaugurated that same year. A deacon negotiated the acquisition of a piece of ground on the farm Twisfontein for this purpose. This helped settle a dispute (twis) among the farmers in the area about water. After the inauguration of the church, peace (vrede) reigned and the new town was called Vredenburg.

In 1880 the first school was built in the town and after the water pipeline was built after World War II, not only the town but the entire region experienced a boom. One coastal town after the other was established and in 1975 Vredenburg and Saldanha formed the amalgamated Vredenburg/Saldanha municipality to administer the region as a unit - the biggest municipal area in South Africa.

Author and photograph - Cornel Truter, West Coast Tourist Guide

Top

Route 27 Terms of Service About Us Privacy Statement


© Avril Brand, South Africa West Coast