Velddrif & Laaiplek
Velddrif, Laaiplek and Port Owen are adjacent to one another and form a unit. Velddrif is situated on the north-eastern shore of the Berg River about 2 km from where the river flows into St Helena Bay. The town stretches along the banks of the Berg River for about 8km and is 150 km from Cape Town.

Because of its position, the town offers a wide variety of recreational facilities to holidaymakers. The Berg River is a tidal river for many kilometres inland and is navigable throughout the year. The beautiful scenery along the banks can be viewed from a small boat. Come spring and fields of wild flowers bloom in the area. The town has a good hotel with an excellent restaurant. There is also a 9 hole golf course and a neat clubhouse for the keen golfer.

Laaiplek is a small town just north of Port Owen, administered and managed by Velddrif. In the boom years of the fishing industry, this fairly modern town developed around a fish factory.

The hotel in the town has a fine restaurant. There is also a caravan park with its own swimming pool beside the sea. Laaiplek is an angler's paradis and rows of anglers can ususally be seen on the breakwater leading into the harbour.
Bokkoms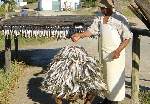 Along the banks of the Berg River is a dirt road that is regarded, unofficially, as a national monument. Here large schools of harders are netted and turned into bokkoms. Bokkoms are harders (mullet) that are salted, then strung into bunches and hung up to dry. They are unique to this part of the West Coast and no visitor should leave before visiting this trail.

All along this road there are rows of fish strung on ropes under reed shelters. Here women sit, with needle and string, tying up the little fish before salting them and hanging them to dry in the wind. Small fishng boats with oars, used for setting the harder net, lie alongside dilapidated old, wooden quays, adding to the quaintness and chanrm of this area.

Bokkoms are synonymous with Velddrif. These dried fish are the biltong of the area. This unique, traditional delicacy is highly prized by initiates and best enjoyed with white wine, or with bread, apricot jam and black coffee.
Birdlife
The upper part of the river is home to thousands of waders. Because of the large numbers of pink flamingos, a farm in the area is called Flamingo Vlei. The birds are found as far as Berg River station, about 25km upstream.

Author - Cornel Truter, West Coast Tourist Guide
Photographs - 'Velddrif Atmospher' and 'Bokkoms', Pamela Bell

Top

Route 27 Terms of Service About Us Privacy Statement


© Avril Brand, South Africa West Coast