This railway line crosses a large part of the West Coast area. If the safe natural harbour at Saldanha had not been there it would not have been possible to transport iron ore for export from the open-cast mines at Sishen in the Northern Cape and the railway line would have been connected to some other harbour. This railroad development boosted the development of Saldanha and created many new employment opportunities.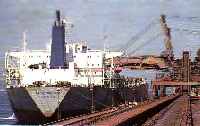 Saldanha's potential as a deep-sea harbour had long been recognised. As early as 1907 this natural harbour's potential was discussed in the press and it was remarked that the harbour was big enough to accommodate the whole British fleeet of the day! It is still the deepest, safest harbour in South Africa.
In 1953 Iscor (Iron and Steel Corporation) started mining iron ore near Sishen in the Northern Cape. Due to the depletion of some of the country's gold reserves in the 1960's and the discovery of a 4 000 million ton deposit of high-grade iron near Sishen, the feasibility of a new, large-scale iron-ore export project was investigated. These investigations led to Saldanha Bay being chosen as the best export harbour for the ore. The railway line connecting the iron-ore mines with the harbour was built as a result.
Construction on the railway line started on 1 June 1973 and the first ore train arrived at Saldanha on 14 May 1976. On 27 September of the same year the first ore carrier left Saldanha, bound for Europe.
Although the railway line was built to transport iron ore, almost 24% of its revenue is derived from the transport of other minerals such as zinc concentrates, salt, gypsum and coal.
The line is 861km long and is fully electrified. There are only three bends along the whole stretch, with a maximum radius of 1000m. The only tunnel is the Bobbejaansberg Tunnel, 840m long, near Elands Bay.
In 1989 a world record was set when the longest and heaviest train ever assembled covered the distance. The entry in the Guiness Book of Records read as follows:
Length of train - 7 303km
Gross mass of train - 71 210ton
No. of loaded trucks - 660
No. of locomotives - 9 electrical and 7 diesel
Distance covered - 861km
Maximum speed - 80km/h
Average speed - 38,04km/h
Regular tours are arranged at the unloading point in Saldanha Bay harbour.

Author and photograph: Cornel Truter, West Coast Tourist Guide