Port Owen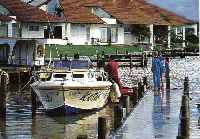 The Port Owen Marina (an upmarket holiday resort) lies between Velddrif and Laaiplek, where the Berg River flows into the sea. The Marina was developed on a vlei and a network of canals was built to give boats access to both the river and the sea.

For the energetic, there are rowing boats, canoes and windsurfers to use on the river or on the 3,2km of private canals. Many owners of the larger and more upmarket villas have their own yachts and this has ensured modern and safe moorings for yachts and motor boats. The harbour has a slipway and hoist to lift boats of up to 10 tons out of the water. It is a paradise for water sports enthusiasts.

One can also go for long walks along the beach, play tennis or fish from various spots. The marina has a restaurant and the yacht club offers good entertainment.

Late in the afternoon there are organised boat trips along the river and many water birds can be seen in the reeds. The area is especially famous for its pelicans. The annual three-day Berg River Canoe Marathon, starting in Paarl, ends at Port Owen.
Dwarskersbos
Ten kilometres north of Laaiplek is Dwarskersbos, a popular holiday resort. The town is situated in the centre of the St Helena basin and has a splendid clean, sandy beach that stretches for kilometres. The town derived its name from the many candle bushes (kersbosse) in the area. The caravan park is frequented by holidaymakers throught the year. All stands are under shady trees, each with its own power and water supply. There are also some fully equipped flats and rondawels beside the sea. During high season excellent entertainment programmes are presented. There is also a restaurant that caters for day outings.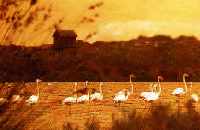 Dwarskersbos is a neat and fast-expanding holiday town. The town made history on 27 August 1969 when it was hit by a tidal wave. The sea broke through the dune and washed into many of the houses.
The sunsets on this bay are a photographer's dream. Over the years the town has also become known for its angling, watersports and swimming. Whales can often be seen near the coast and they attract many visitors.
Ten kilometres to the north is the famous Rocher Pan with its 150 different bird species, among them large numbers of water birds. The pans along the coast can be reached via a walking trail from Dwarskersbos. Visitors to the pan, especially birdwatchers, usually use Dwarskersbos as a base.
Author and photographs - Cornel Truter, West Coast Tourist Guide
Top
Route 27 Terms of Service About Us Privacy Statement


© Avril Brand, South Africa West Coast