Paternoster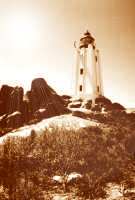 This picturesque fishing town, 15km north-west of Vredenburg, is one of the oldest coastal towns along the West Coast and is famous for its crayfish. There are many white-washed fishermen's cottages dotted along a long, white beach. In the town some of the atmosphere of a fishing community of a bygone era is preserved.

In spring many flower lovers stay here to visit the impressive Columbine nature Reserve just 3 km away. Tietiesbaai (made famous by Pieter Pieterse) forms part of the Columbine Nature Reserve and is frequented by campers and caravaners, especially in December.

Columbine Nature Reserve is about 16km from Vredenburg and 3km from Paternoster. The bay, which is part of the reserve, has many picnic spots and braai facilities. There are basic overnight facilities and ablution blocks.

Visit Cape Columbine, The last manned lighthouse built on the South African coast for more information about this fascinating light house and Paternoster.

Also read on West Coast History and Sea Tales!:

The Lisboa wrecked on Soldiers Reef – Paternoster: On 23 October 1910, the Lisboa ran aground on Soldiers Reef near Paternoster. The wreck of the Lisboa is particularly interesting because it was the first occasion on the South African coast on which radio telegraphy was used to summon help by a ship in distress.
Jacobsbaai (Jacob's Bay)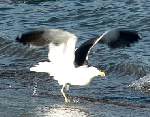 Jacobs Bay (Jacobsbaai) is a beautiful, quaint, protected little village halfway between Saldanha and Vredenburg.

It has a sea frontage of about 2 km with cosy bays, rocky outlets and is often referred to as 'Namaqualand by the Sea' as sping time is particularly beautiful when this area bursts into color.

It is a hive of activity, especially in the crayfish season. One crayfish factory has attractive stone walls and beautiful gardens.

Author - Cornel Truter, West Coast Tourist Guide
Photograph of Columbine Lighthouse provided by Gabriel Athiros, The Cape Odyssey
Photograph "Kelp Gull" by Wayne Bodenstein

Top

Route 27 Terms of Service About Us Privacy Statement


© Avril Brand, South Africa West Coast