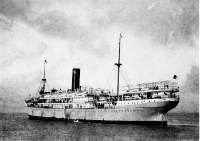 The Lisboa was a Portuguese twin screw steel steamship, built in 1910 in Glasgow and displacing 7459 tons. She was owned and operated by the Portuguese Empreza Nacional de Navegacao as one of their mailships and commanded by Captain Menezes. At the time of her loss she was the largest vessel in the Portuguese merchant fleet.

On 23 October 1910, while en route from Lobito, in Angola, to Cape Town and Maputo (Lourenço Marques), with 250 passengers and 50 crew aboard and carrying a cargo which included bulls and olive oil, the Lisboa ran aground on Soldiers Reef near Paternoster.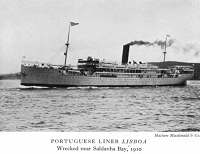 In 1930 SS Malmesbury was wrecked on the nearby Jacobs reef while on her maiden voyage. Although general panic was averted when she first grounded, one of the lifeboats were launched so hastily that one of the davits broke, depositing 9 passengers in the water – seven of whom drowned. The remainder of the passengers and crew were evacuated from the ship safely.
The wreck of the Lisboa is particularly interesting because it was the first occasion on the South African coast on which radio telegraphy was used to summon help by a ship in distress.
The wireless operator on board distinguished himself by remaining at his post to get the message through, even though the ship was sinking fast.
All the boats had got clear and the vessel was going down quickly before he leapt overboard and swam to the shore.
Back to West Coast History Index
Back to Seatales Index
Article received from Gabriel Athiros, Editor, "The Cape Odyssey"