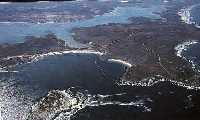 Although Langebaan is well known as a coastal resort, it is not on the sea, but on the shores of a lagoon - one of South Africa's greatest natural wonders. The bright blue, sheltered stretch of water stretches south for 17 km from Saldanha Bay in the north, past Langebaan village to Geelbek at the southern end. It is 4 km wide in places.

Langebaan village is in the heart of the West Coast region, 124 km from Cape Town. Langebaan is especially valued for its peaceful and beautiful surroundings. It is a favourite destination all the year round for visitors and water sports enthusiasts, who enjoy the fine angling, diving, swimming and sailing to be found here.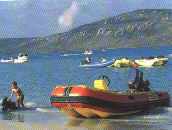 The sailing conditons here are among the best in the Western Cape. There are safe moorings for yachts in the town, and also at Kraalbaai, Oupos and Perlemoen Point.
This picturesque town developed quickly from a quiet fishing village into a holidaymaker's paradise and today it is one of the most popular holiday resorts ont he West Coast.
Historical Background
Langebaan is one of South Africa's oldest towns. Its modern history stretches back more than four centuries and its palaeontological and archaeological history goes back several million years. Twelve kilometres to the east of the town, on the farm Elandsfontein, a fossilized skull dating back to the Stone Age was found. The fossil deposits here are considered the richest of their kind world-wide. (See Fossil Park)

Early in the 17th century, before Jan van Riebeeck's arrival at the Cape, French seal hunters often visited the area around Langebaan. Schaapen Island was their headquarters and was used to store their seal skins and whale-oil. This island, which is only a short distance from the beach, was known as Isle la Biche. Almost a century later Dutch settlers renamed the island. The calm waters of the lagoon have offered a safe haven to countless seafarers over the centuries and ships were often repaired here.

Langebaan has attracted many visitors over the years. One of these was a runaway sailor called Lynch, who arrived in the last century. His name has been immortalised in Lynch Point, which lies on the northern border of the town. In the local vernacular Lynch se Klip changed to Leensje se Klip end eventually to Leentjiesklip.

The town originated on the farm De Stompe Hoek, previously known as Geitenmelkfontein. According to popular belief, the town was named after the long, winding road behind the sand dunes, which stretches from the original farm house (today the Parks Board's Lodge) to the area around Leentjiesklip. The many foreign surnames found among locals can be ascribed to the host of international treasure hunters who hoped to make a fortune out of whaling. As a reminder of this period, a harpoon gun has been erected in front of the municipal offices.

During World War II Langebaan was used as a terminal where supplies could be loaded and unloaded and gigantic English Catalina seaplanes often landed on the lagoon.

Also Read on West Coast History and Sea Tales:

Early Activity on the Langebaan Lagoon: On the West Coast Historical Route!!

Saldanha Bay Coasters and the wreck of the Nagel: The story of the Nagel and the other coasters is very much part of the broad and dramatic sweep of South African maritime history

Author and photograph - Cornel Truter, West Coast Tourist Guide

Top

Route 27 Terms of Service About Us Privacy Statement


© Avril Brand, South Africa West Coast