---
West Coast R27
---
Route 27
West Coast Towns
Off the Beaten Track
West Coast History
Culture & History
From Crayfish to Iron
West Coast Map
---
West Coast Explorer
---
SA West Coast
Tours/Recreation
Nature Reserves
Fossil Park
Sea Tales & Wrecks
Whale Watching
Weskus Stories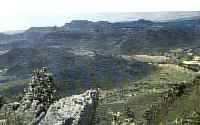 Aurora, meaning 'daybreak' is a tranquil village set against the slopes of an imposing mountain in the middle of the Sandveld. In summer the area can look dry and colourless in contrast to the lush green mountain, but after the first rains the area is transformed into a paradise of flowers.

Aurora was first established as a church centre for the people in the area but it broke away from the congregation of Piketberg in 1906. By 1866 building work had started already on a small church on the farm Rietvlei. The present church was completed in 1908 and the first minister was Reverend C R Ferreira, a former Boer prisoner of war in Ceylon. When his daughter was baptised here, he called her Ceylonia Aurora.
Attractions
McClear Base
McClear Base, outside Aurora, is the northernmost point on which all survey beacons in South Africa are based. In 1751, the French astronomer Abbe De la Caille, paid a vist to the area. Through trigonometrical measurements he tried to determine the shape of the Earth in the southern hemisphere. While he was busy with his survey he walked the distance between this point and Cape Town three times! On the farm Klipfontein, just outside the town, he erected the northern beacon. The western beacon is on Kasteelberg and the southern beacon is on the corner of Strand and Adderley streets in Cape Town.
Mountain Outside Town
To the north of the town is a striking mountain with unusual rock formations and vegetation. From the lookout posts on the mountain one has a breathtaking view in all directions. On clear, cloudless days, Table Mountain in Cape Town can be seen to the south. To the west, the whole of St Helena Bay is visible, as is Dwarskersbos. To the north is Het Kruis with Graafwater in the distance and the Swartland to the east, separated from the Sandveld by bush and rooikrans trees. The winding course of the Berg River, through the Swartland and the Sandveld, can be seen clearly from the mountain. In a gap in the Piketberg mountains lies the well-known, beautiful, Sandveld farm, Kapteinskloof.
Historic Farms in the Area
On the farm Rietvlei, a short distance from Aurora, the first school in the area was built. Children have been taught here since 1875. The first church was built in 1833. Klein-Klipfontein, situated against Klein-Tafelberg some 20km from Aurora on the road to Elands Bay, was allocated to Michiel Basson as a sheep station in 1743. The neighbouring farm was declared a national monument in 1981.

A few traditional Sandveld houses still exist on farms in the area. One, on the farm Kapteinskloof, to the south-east of Aurora, has been renovated and now operates as a guest house, attracting visitors in large numbers. Kapteinskloof is one of the most beautiful farms south-west of the Piketberg mountains. It is situated in an evergreen area with plenty of water and has abundant arum lilies in its many marshes. The turn-off to the farm is on the road from Piketberg to Velddrif, just outside Suurfontein.

Author and photograph - Cornel Truter, West Coast Tourist Guide

Top

Route 27 Terms of Service About Us Privacy Statement


© Avril Brand, South Africa West Coast